Exploring the high-potential world of kinases
Your focus is kinase research? Cisbio has the solutions to help you move forward.
The human kinome comprises 518 protein kinases and 20 lipid kinases. These proteins are involved in a wide variety of cellular processes, including cycle mechanisms, metabolism, transcription, cytoskeletal development, cellular motility, apoptosis, cell proliferation, differentiation, and even intracellular communication (Manning, G. et al. 2002. The Protein Kinase Complement of the Human Genome. Science (298):1912-1934).
Kinase white paper
It's time for you to find out more about the kinome world and its implication in diseases!
Read this highly informative white paper written by Cisbio in collaboration with Labiotech.eu.
Kinase research made easy using HTRF® technology
Working tirelessly to match your needs, Cisbio experts designed and developed multiple solutions for studying kinases, from kinase activity to ATP-competitive inhibitor binding.
Kinase activity
Universal solution or target-specific substrates? Cell-based or biochemical assays?The choice is yours!
A universal solution: KinEASE assays
Cisbio experts developed specific HTRF
®
KinEASE kits to investigate kinase activity, characterize kinases, and screen for inhibitors. The five kits in the product range offer a semi-universal method for addressing phosphorylation on Serine/Threonine and Tyrosine residues, respectively. Over 272 kinases have already been validated with this method.

The principle for these assays is divided into two main steps:
Enzymatic step: during the enzymatic step, the tagged substrate is incubated with the kinase of interest and ATP, allowing the phosphorylation reaction to begin.
Detection step: detection reagents are added and recognize the phosphorylated substrate. The resulting Time-Resolved Fluorescence Resonance Energy Transfer (TR-FRET) signal is proportional to the phosphorylation level.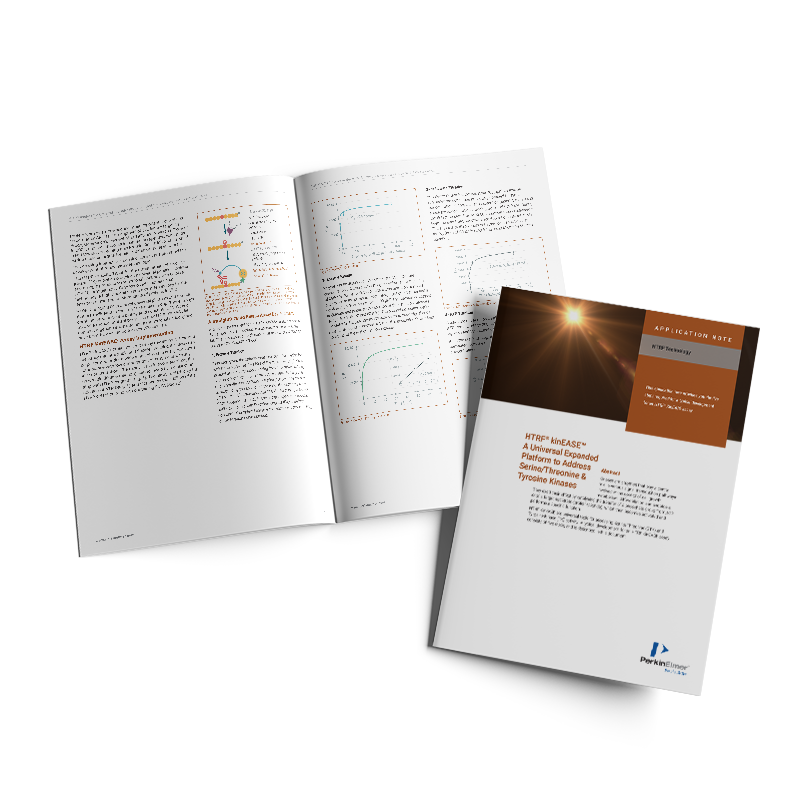 Measuring kinase activity under nearly any condition
Based on HTRF® technology, the KinEASE kit is used as a universal tool to characterize Serine/Threonine and Tyrosine kinase activity. Read this document and find out more about the method.
Addressing multiple therapeutic areas with HTRF® KinEASE assays
Check out this literature to discover three case studies using KinEASE assays in various therapeutic areas (cancer, neurological and autoimmune diseases).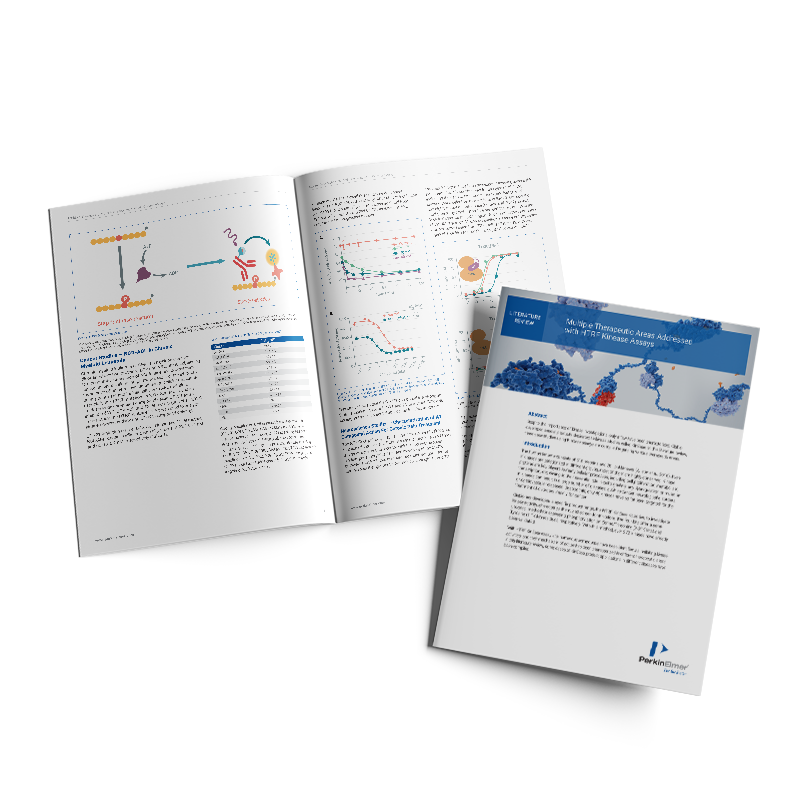 A complete overview of the KinEASE assay
Understand how the KinEASE assay works and watch a clear demonstration using HTRF® KinEASE – STK S1.
A substrate-specific solution: LANCE® Ultra Kinase Assay
LANCE
®
technology (LANthanide Chelate Excitation)
Ultra
is a solution in which your fluorescently labeled substrate can be chosen specifically. Over 300 kinases were tested and validated with this approach.

The assay protocol is divided in two steps:
Enzymatic step: the ULight-peptide substrate is phosphorylated in the presence of kinase and ATP.
Detection step: the substrate is captured by an Eu-anti-phospho-substrate antibody. Upon excitation, the Eu-chelate transfers its energy to the ULightTM dye, resulting in fluorescent light emission at 665 nm.

For more information on the technology and its various applications, be sure to have a look at the dedicated web page.
Learn more about LANCE® Ultra platform
LANCE® Ultra Kinase Guide
This document helps you on your substrate choice and the corresponding Europium-labeled anti-phospho antibody.
Cell-based solution
Cellular protein phosphorylation assays can be used for cell-based assays, providing the sensitivity required to detect endogenous and basal levels of phosphorylated proteins.
Read our dedicated "Phosphorylation from A to Z" documentation to learn more about this solution.
The Cell Signaling guide includes an overview of the assay.
You will also find a complete assay description, case studies, applications and more.
Kinase binding platform
You must have heard about the best known kinase inhibitor, Gleevec. This inhibitor binds a non-activated form of Abl and is therefore more difficult to detect by activity-based assays. We're now introducing our Kinase binding platform.
Don't miss potentially promising compounds anymore!
How to proceed
Cisbio's different assays enable you to perform compound screening, pharmacological studies, or determine the targeted inhibitor's IC50 value or inhibition constant (Ki). The assay workflow is based on three stages.
1

Discovery kit
selection
Choose the discovery kit that suits your needs according to the tag you use: Kinase-GST binding kit, Kinase-6HIS binding kit and Kinase-BIOTIN binding kit.

2

Binding assay &
Tracer selection
Perform a kinase binding assay with the three tracers.
Determine which of the three fluorescent tracers (Staurosporine, Dasatinib, Sunitinib) is best suited to your tagged kinase.

3

Screening and pharmacology
Start the study of your kinase with compound screening or pharmacological studies.
The ultimate guide to successful kinase binding experiments
This complete guide provides all the tools you need to achieve the best possible kinase binding assays using HTRF®.
Follow the guide to set up the right assays for the kinase in your study.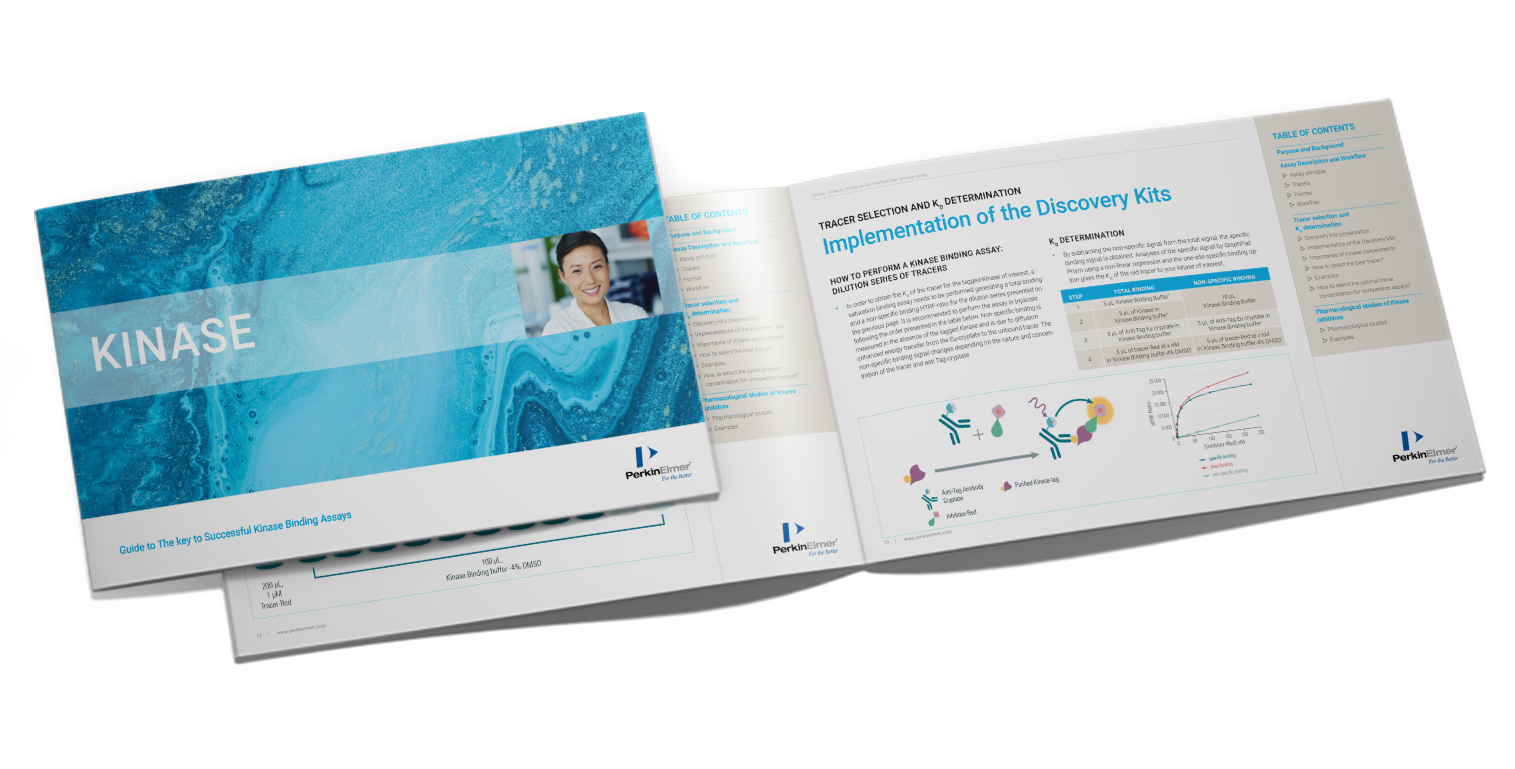 How it works: assay principle
The HTRF® Kinase binding assay is based on a biochemical sandwich format.  
When a tagged kinase is present, an HTRF® signal is generated when the tracer is bound to the kinase. Upon adding competitive inhibitors, the fluorescent Staurosporine (or Dasatinib or Sunitinib) is displaced and the HTRF® signal disappears.
Kinase inhibitor selection for kinase binding assays
The Cisbio discovery kit includes three fluorescent ATP-competitive kinase inhibitors: Staurosporine-red, Dasatinib-red, Sunitinib-red. We estimate that these three fluorescent inhibitors cover at least 80% of the human kinome.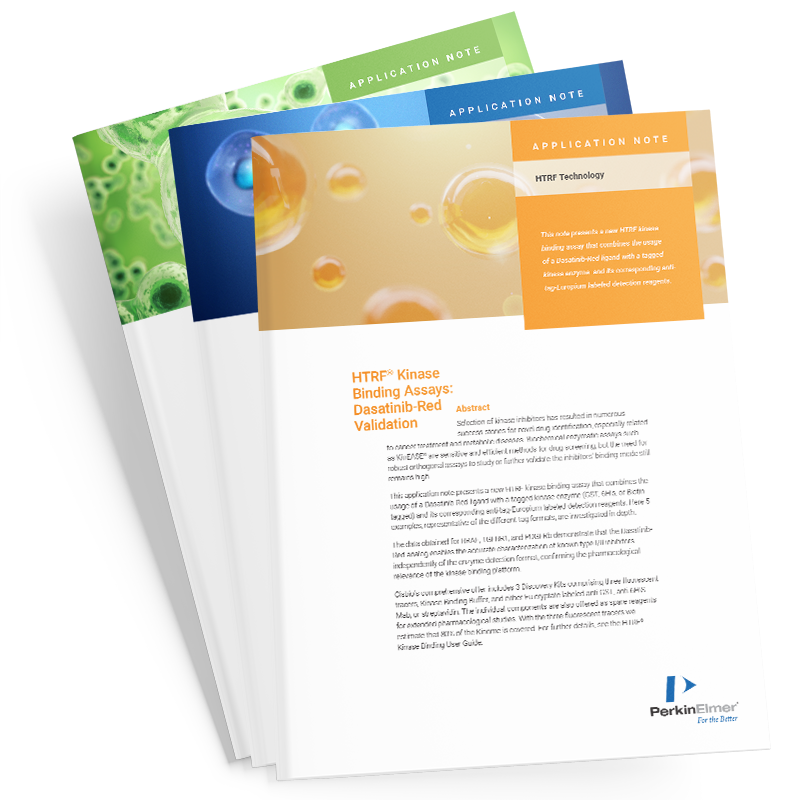 Cisbio scientists have written three application notes, one per tracer, to guide you in your studies. Each application note provides validation data, guidance for Kd and Ki determination, and case studies.
Kinetic binding parameters: determining Kon and Koff
Dissociation kinetics, and thus inhibitor residence time, have become key parameters for predicting in-vivo drug efficacy outcome. HTRF® kinase binding platform assays are ideal for studying the binding kinetics of inhibitors.
Get complete information in this application note. You will find all the materials and methods required, data processing, results analyses, and concrete case studies.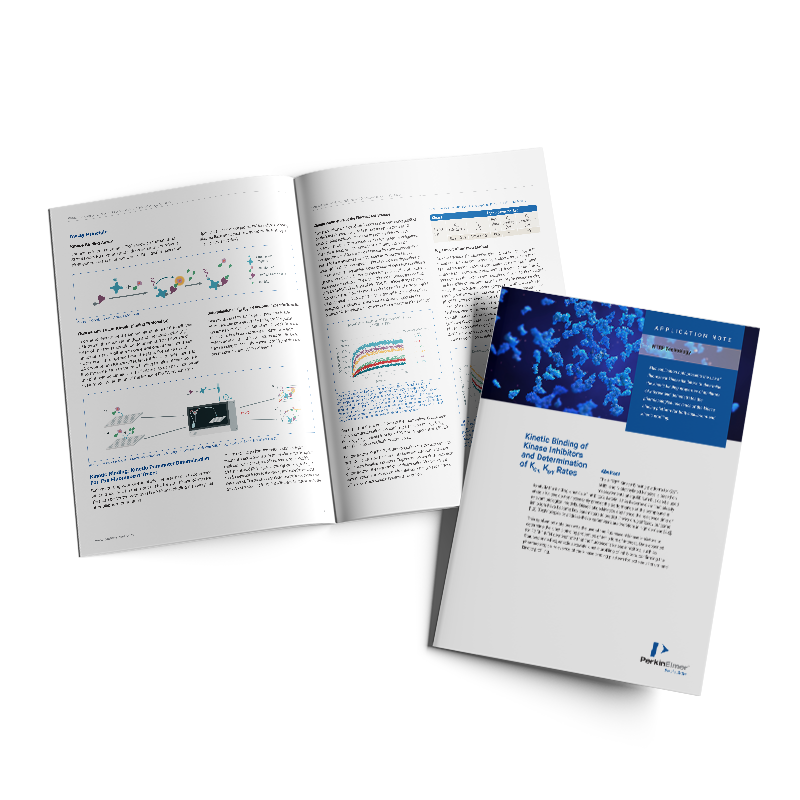 How to run an HTRF® Kinase Binding platform assay
Watch this video to discover how easy is to run the Kinase-GST binding discovery kit.